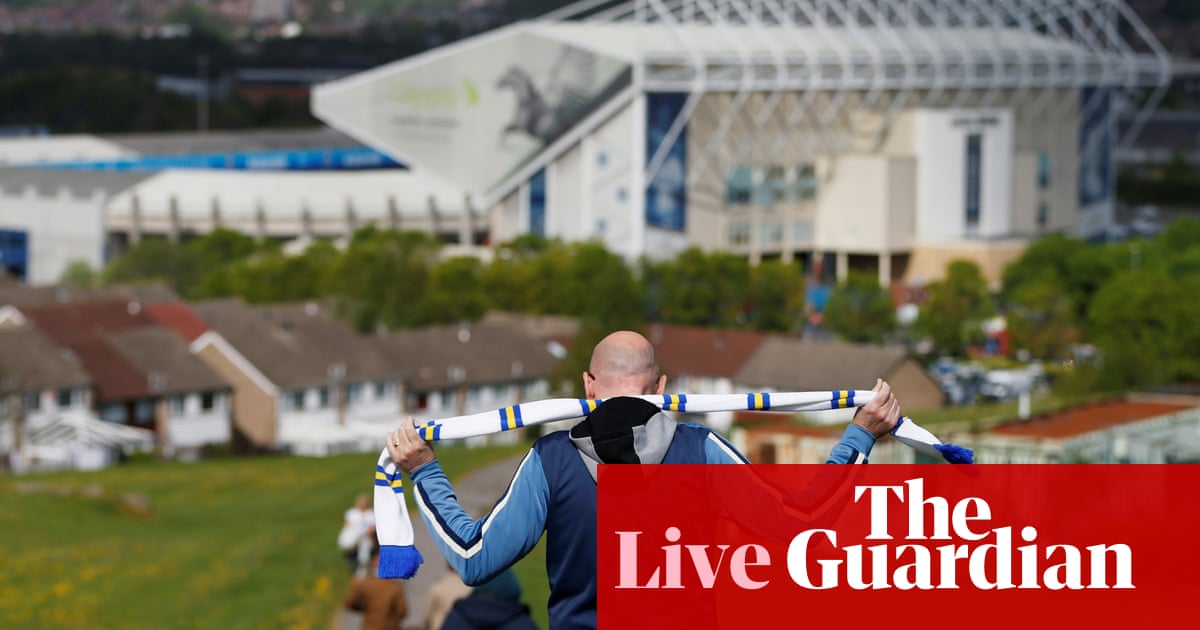 Elland Road is in decent voice, and their team will need that today. People are standing in the expensive seats, which is a good sign.
The more I look at these XIs, the more I fancy Villa. I know I'm offering little insight here – the side who've won 10 straight versus the side who've lost four from seven and two in a row – but that Villa midfield just looks too strong and too clever.
Elsewhere: follow Brighton v Arsenal!
Elsewhere: follow Leicester City v Arsenal!
I'm looking forward to seeing Axel Tuanzebe today. The first times I saw him I thought I was seeing a player, but his career has stalled a little since then – he'd have expected to be making some Premier League appearances by now. I remember hearing that there some doubt over his ability to see runners in his peripheral vision, which seems like a very specific criticism, but at 21 he's got plenty of time to work that out.
Dean Smith expects intensity from both teams, and after ten in a row, we'll forgive him his "ourselves" reflexive pronoun abuse. He doesn't think a win today will give his side any kind of advantage, and is taking things one game at a time. More news as I get it.
The Premier League could use both of these teams, and for sure could use their grounds. Anyone who's ever been pretentious about football will have a yen to see how Bielsa goes in the top division, and who wouldn't love to see Grealish sticking it to the self-importants?
He goes on to explain that Leeds' 4-1-4-1 system is predictable – opponents know what's coming, so they're able to prepare for it. Lee Hendrie adds that they lack a proper striker – Roofe and Bamford are both number 10s.
"Often, the third-placed teams always struggle in the playoffs," advises Paul Robinson.
Bielsa speaks; the angels listen. He says that Villa are one of the big teams of the Championship and it's a big challenge to beat them, which will strengthen Leeds' confidence. His team are focused on assimilating the fact that they're not going to be promoted automatically, and analysing the reasons.
It's hard to know what to make of Leeds. Bielsa's sides are usually accused of tiring, the result of the intensity he demands from them. But perhaps it's just a levelling out – for a while, he got them performing at their maximum, but they're not good enough to get results below that and no team can sustain top form for an entire season.
There's no great secret about why things are going so well for Villa: it's the middle of that midfield, where John McGinn and Jack Grealish have been outstanding, individually and in combination. With the security of Hourihane or Whelan behind them – Hourihane this afternoon – they've had freedom to play, and if Leeds are to do anything here, they'll need to somehow restrict that axis. I'm not certain how, I must say.
Leeds make two changes: Dallas and Phillips come in for Alioski – out for the season – and Roberts, following Monday's disastrous defeat to Brentford, which followed Friday's disastrous defeat to 10-man Wigan. Which is to say that Bielsa is not replete with options, so it makes most sense for him to trust his players and hope things work out.
Villa, meanwhile, bring back Tuanzebe, Hourihane and Green, with Jedinak, Whelan and Adomah missing out. Tammy Abraham is unavailable through injury
Leeds United (an intellectual, impenetrable 4-1-4-1): Casilla; Ayling, Jansson, Cooper, Dallas; Phillips; Hernandez, Forshaw, Klich, Harrison; Bamford. Subs: Peacock-Farrell, Roberts, Berardi, Brown, Shackleton, Clarke, Bogusz.
Aston Villa (a good, honest, old-fashioned 4-1-4-1): Steer; Elmohamady, Tuanzebe, Mings, Taylor; Hourihane; Green, McGinn, Grealis, El Ghazi; Kodjia. Subs: Sarkic, Hutton, Jedinak, Whelan, Bjarnason, Lansbury, Adomah.
It's long since been agreed that the Championship is the greatest league in football, but even by the standard there's a lot going on here.
For most of the season, Leeds have ploughed and scythed through the division, Bielsismed up to the eyeballs, a club once more, and certainties for promotion. But, like others before them, they've faded in recent weeks and must now attack the lottery of the playoffs*. The Elland Road fatalists know how this one ends.
Villa, meanwhile, are at the opposite end of the spectrum, on one of the most ridiculous buzzes of their 144-year history, following 10 wins on the spin. Dean Smith has inspired his team to a record-breaking run, which has seen them secure a place in the lottery of the playoffs**; they are now favourites to join Norwich and Sheffield United in the Premier League.
With both teams safely ensconced in the lottery of the playoffs*** but unable to achieve automatic promotion, in a sense this match means nothing. Except there's a chance they'll meet in the semi-finals or final, so today represents a chance for cards to be marked, stamps to be left and smack to be laid down. It should be excellent.
Kick-off 12pm BST
* not a lottery
** not a lottery
*** not a lottery
Related