Everybody knows how much Mauricio Pochettino loved Mousa Dembélé when the Belgian midfielder was strutting his stuff for Tottenham. "He's one of the genius players I have been lucky enough to meet – together with Maradona, Ronaldinho, Okocha and Ivan de la Pena," the Spurs manager once said. And everybody knows how badly he wanted to make a statement signing this summer in order to reinvigorate his project in north London.
Imagine Pochettino's excitement now. He has done the latter with the £55m club record purchase of Tanguy Ndombele from Lyon and it is a move that not only plugs the gap left by Dembélé's departure to Guangzhou R&F last January but promises to rekindle his memory.
At Lyon they love to talk up their players; to hail them as the next big thing – partly, one suspects, to swell their transfer market value. Jean-Michel Aulas, the president, has described Ndombele as the "new Michael Essien" while for Bruno Genesio, who was sacked as the manager in May, he "can be a new Paul Pogba". There have also been the comparisons to N'Golo Kanté.
But Spurs fans will certainly see shades of Dembélé when Ndombele goes to work for them. Watch for how he gets his body in between the ball and his opponent before he rolls out the shoulder drops, the drag-backs and the pirouettes to get his team moving. Ndombele likes to manipulate the ball, Dembélé-style, by whipping his studs across the top of it while he is an excellent passer but there is also a major difference and it lies in his verticality, as they are fond of saying in France.
If latter-year Dembélé sometimes took an extra touch or looked square, Ndombele's only thought when he gets the ball is to drive forward and break the lines, whether with a pass or a dribble. Add in his strength and explosive pace, his intelligence – particularly in the offensive transitions – and his ability to regain possession, and it is little wonder that, even at the age of 22, he has been advanced as the complete midfielder.
The raw talent has always been there but the focus has not and it is remarkable to think that as recently as the 2015-16 season Ndombele was fighting for recognition in the Amiens reserve team in the Championnat National 3, which is French football's fifth tier.
It had all gone wrong for him at Guingamp, where he was released as a 17-year-old in 2014 – the club did not offer him a professional contract amid concerns over his commitment. Was he prepared to make the necessary sacrifices?
Talk to anybody in France about Ndombele and one word recurs: nonchalance. It is not meant as a compliment and takes in the impression that he has not always been the most hard-working player. Perhaps it is because his talent is so big that everything comes easily to him.
"He was nonchalant," Sullivan Martinet, his youth team captain at Guingamp, told Ouest France. "He was so strong that we were expecting more from him, more consistency. He didn't try maybe as much. He didn't give the impression of always being 100%. With hindsight, what harmed him was his behaviour off the pitch. We were less talented but we wanted it more than him."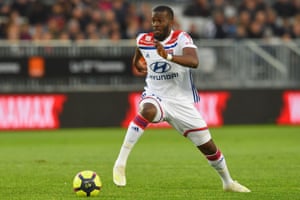 Genesio would betray a similar frustration with Ndombele last season, when he wondered in public how he could be so good against Manchester City in the Champions League but so disappointing in some lower-profile games. It is rare to hear Genesio putting such criticisms on the record and it created headlines. That said, he could have applied them to virtually any of his Lyon players and Ndombele's youth and lack of top-level experience surely had to be considered.
Ndombele had another problem at Guingamp – a propensity to be slightly overweight – and it was cited among the reasons for the refusal to give him a senior deal. "People told me he could put on weight," said Philippe Le Maire, who was on the club's youth staff. "To put it in simple terms – he built his bottom half before the top."
Ndombele was turned down by Auxerre, Caen and Angers – they did not believe that he had the correct build – and, when he joined Amiens, he was at a crossroads, questioning whether he had a future in the professional game. Yet after two seasons in the reserves, he made his senior breakthrough and led the club to promotion from Ligue 2.
Lyon took him on loan for €2m in 2017-18 and, shrewdly, inserted an option to make the deal permanent for €8m. They exercised it after Ndombele excelled, stepping in for Corentin Tolisso, who had moved to Bayern Munich. International recognition has followed, with Ndombele now capped six times by France, the first of which came against Iceland last October, coincidentally at Guingamp's Stade du Roudourou.
The boy from the banlieues in the south of Paris is not the finished article. For a box-to-box midfielder, he knows that he has to start scoring goals (he got only four at Lyon) while on a bad day, he can give the ball away in dangerous areas. It can be difficult to gauge a player's true level from performances in Ligue 1 and it is plain that he will need time to adapt at Spurs. How will he cope with the size of his price-tag?
But there can be no doubting the sense of anticipation that accompanies Ndombele to the Premier League. Pep Guardiola was taken aback by how he took the game to his City team while Didier Deschamps, the France manager, says Ndombele "knows how to do everything in the middle."
Ndombele is a quiet kind of guy, cool and chilled, but with inner steel and a strong religious faith. Pochettino has told him that he will turn him into a world-class player. Ndombele believes him.